Eye Cleanser pH
• Ingredients:Chomomilla Extract, Euphrasia Officinalis Extract, Hamamelis Virginiana
• Effects: High density of nerve fibers and vascular around the eye area. Age and fatigue will slow down the lymphatic & circulatory system affecting the eye's daily secretion causing accumulation of waste that cause dull pigmentation & all kinds of eye problems. Four main features o Remove daily eye secretion & enhance pigmentation breakdown. o Soften impurities/sebum accumulated in the hair follicles o Has the effect of soothing, moisturising & combat irritation. o Gentle, non greasy. Eyes feel comfortable and fresh.
• Usage:Day and night. Wet cotton wool, gently wipe around the eye area. Then rinse with water.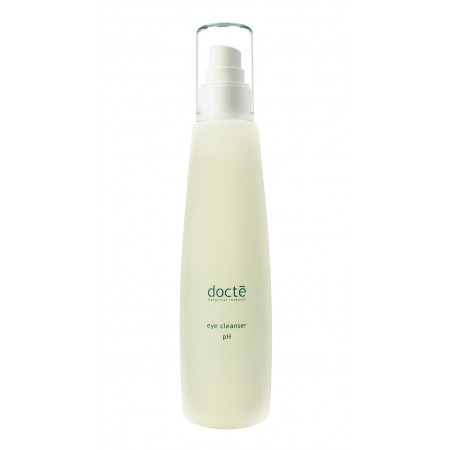 Eye Contour Ampoules
• Ingredients:Echinacea Angustifolia, Euphrasia Officinalis, Chamomilla Recutita, Castor Oil.
• Effects:New technology formula synergising Angustifolia, Euphrasia Officinalis, etc organic plant extract, rich in polysaccharides and polyphenolic. Enhancing immunity, protect against the harmful effects of the environmental, anti-inflammatory, anti swelling, calming, nourishing and hydrating effect.
• Suitable for:Late night, tired, swollen, dry, saggy, taut around the eye.
• Usage:Use day and night. Massage lightly around the eye area. (Apply the eye ampoule on cotton wool and put over the eye before sleep)
Eye Essence
• Ingredients:Ammonium Glycyrrhizate, Hydrolyzed Yeast Protein, Panthenol, Avocado oil
• Effects:Combat aging, prevent dryness around eye area, plump up wrinkles, tauten elasticity, maintain active cytokines, plump up skin for a smoother, softer and younger skin.
• Features:Advance breakthrough, 2 in 1 peptide firming ingredients, Palmitoyl Tetrapeptide-3 and Palmitoyl Oligopeptide has significant effect on aging by perking up wrinkles from within and restoring elasticity by stimulating secretion of elastin during repair.
• Suitable for:Eye contour area.
• Usage:Apply lightly over eye area, light and non-greasy feeling. Use once/twice daily.
Eye Secrets
Penetrate intensely into the skin thanks to Algae; containing similar nutrients found in amino acids existing in the human plasma. Algae is also known to be rich in vitamins, minerals, fight oxidation, possess hydrating & nourishing ability.
• Eye Secrets Set includes: DL-Mere Collagen Sheet Algae Protein, Vitamin A & B2
Strengthens and synthesizes mucoplyasacchande and collagen protein
• Eye Fluid Nucleotide
Builds up vitality of structural cells, enhance immunity.
• Wooven Tissue
Protect the delicate eye area, helps in absorption of nutrients; and not add-on burden to eye area.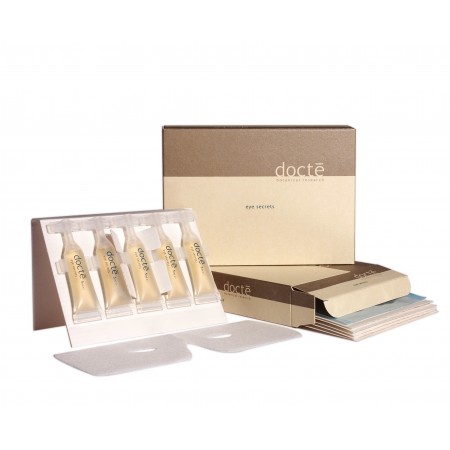 Eye Treatment Mask
• Ingredients:Echinacea Angustifolia Extract, Quercus Robur Root Extract, Triticum Vulgare (Wheat)
• Effects:
• Soothe very tired eye, enhance skin's natural protective effect and absorption ability. • Improve circulation, eliminate waste and sedimentation of pigment.
• Features:Echinacea Angustifolia extracts trigger skin's antibody, anti-inflammation and whitening effect.
• Suitable for:Eye Contour of all skin type.
• Usage:Apply, in correct direction, a thick layer, wash off after 10 mins.
Radiance Eye Gel
• Ingredients • Palmitoyl Tetrapeptide-7, Hydrolyzed Elastin, Chrysin
• Effects:Boost lasting hydration, formation of hydro protection film to prevent hydro lost, enhance circulation, eliminate dark circles and puffiness, alleviate eye bags, leaving the eye contour radiant and rejuvenated.
• Features:Leaving your eyes feeling refresh and cool with no sticky feeling.
• Suitable for:Dark eye circle, fine line.
• Usage:Apply before make-up to achieve total moisturizing effect. Suitable for day and night use.
---